2013 Soaring Phoenix Award Winner Freddie J. Harris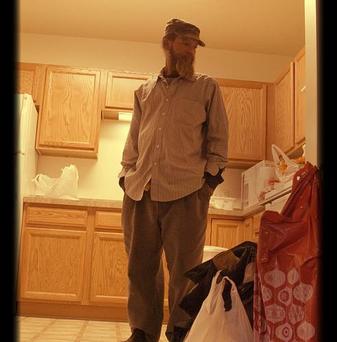 In 1977 Freddie dropped out of high school after spending years struggling with an undiagnosed learning disability. "I was having troubles thinking," he remembers, " and I dropped out because I couldn't focus." His difficulties focusing didn't stop him from drawing, though, and Freddie says he won several awards for his art while he did attend school.
While school was difficult, though, "home" was worse. Freddie's mom was an alcoholic who spent the majority of the family's money on alcohol and cigarettes. "My mother couldn't really stay with anyone long enough to help her raise me and my sisters. ... We moved a lot, we bounced from one place to another because she couldn't pay the bills." Too poor to afford crayons, Freddie says he relied on pencils to create his work.
When Freddie's mom passed away, Freddie found himself homeless for the first time after his sister asked him to leave her home. Freddie drew whenever he could as he received help first from the Detroit Rescue Mission and then when, thanks to government assistance, he was able to afford a room at The Kings Arms Motel.
"That's the first time I was on my own. I was getting a little check to pay my rent, plus my food stamps. I was there for a year. That's when I really started drawing a lot, on drawing pads and paper," he says.
But Freddie's good fortune fell victim to government budget cuts, and after that year of stability Freddie found himself living under a bridge for several years. Not only that, but a thief stole all of the art he'd created while at the Kings Arms.
Freddie was also "hit up" twice during his years under the bridge, he says, when someone would come by and steal his artwork and any supplies he'd managed to buy. "A man came and stole most of my art so he could profit from it. He just took it and walked away. I was in deep despair over these losses."
In 2007 fate seemed to want to rub salt in Freddie's many wounds – that year he ended up in the hospital, diagnosed with diabetes.
However, in 2008 something truly good finally happened: Freddie was able to move into the Whitdel Apartments thanks to
Southwest Solutions
(
http://www.swsol.org/
).
Having a place to live after so long on the streets was a challenge all its own. "I was confused and disoriented because it was something new, something I hadn't done in a long time. I still struggle with depression. It's almost like an addictive lifestyle. Moving into the apartment was another change, another step," and once again Freddie turned to his art to help pass the time and give himself a sense of direction.
"My art is an expression of me, my persistence to create, create my own ideas and images. It's the only thing that motivates me. It's all I know," he explains.
With the support of the
Southwest Solutions'
Go-Getters program and his new friend Gerald Butler, Freddie has come a long way. From 2009 – 20011, Freddie graciously opened his home to groups of students through a Southwest Solutions program to help more fortunate people understand the challenges of being homeless.
"Then, just this year, I decided to do something I had never done before," he says. "I spoke at the Solutions at Sunrise event (run by Southwest Solutions) in front of about 1,000 people. I thought I'd give it a try. I think it made a positive impact because they saw a film before I spoke, showing me when I was homeless."
Not only did his talk have a "positive impact," it also moved a member of the audience to help Freddie set up
his online gallery
(
http://freddiejharris.wix.com/fjhoriginalart
).
Today, Freddie is dedicated to making a positive impact through telling his story and through his art. He also has some solid advice for people who are struggling.
"Look at everyday life in a positive mindset," he urges. "Everybody has their own way of doing things – that line is right there every day when you get up, and you've got to make an effort to just keep moving forward. It might seem like you're not getting anywhere, but it's better than standing still. Set a goal; something you can strive for and look forward to."
Thank you for not giving up on yourself and your art, Freddie, and congratulations on winning a 2013 Soaring Phoenix Award!

(use the back arrow to return to the previous page)