2013 Soaring Phoenix Award Winner Kathy Squiers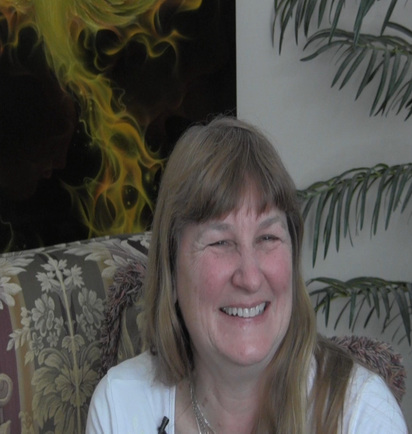 Kathy Squiers' life is a testament to the power creativity has to help us bounce back from even the hardest challenges. Because even though she and her single mom moved from her first childhood home to a long series of temporary places – apartments, communes, even cars – Kathy says that drawing and other creative activities were among the coping strategies that kept her from getting "stuck" in the drama around her.
As an adult, Kathy married and tried to build the kind of stability for her children that she had never known. When she and her first husband divorced, though, she found herself finally facing the feelings of depression she'd been struggling with her entire life.
"I really learned a lot during that time from counselors, awesome friends, and taking the time to seek my own answers," she recalls, and eventually she moved on and married the love of her life.
Kathy and Bob were together ten years. They were great years, too – together they built a house, working "hand and glove" to create a home with room for a team of horses, chickens, a cat and a dog.
At the ten year mark, though, tragedy was back. As her mom developed Alzheimer's and moved in with Kathy's siblings in the northwest US, Bob also became fatally ill. For a long time, Kathy's life was divided between caring for Bob at home and flying out to be with her mom.
Both of her loves died within a short time of each other – and not long after that, Kathy's horses followed.
"It's kind of a common thing with teams of horses, that one will go fairly soon after the other," she says. "And that's what I thought would happen with me; that I would follow Bob. At first I just denied he was actually gone, telling myself that he was just out or on a trip and that he'd be back. But when I let myself realize he had really, truly left me, I decided I was ready to join him."
But, like other
Rising Phoenix Award finalist Jodi Lanning
, Kathy's "a-ha" moment was also inspired by her pets.
"I literally experienced all the color leaving my world," she says. "Everything was gray like ashes."
One day, though, Kathy went outside … and collapsed on the ground, crying. "It was like my tears were draining into the earth with all of the colors." But then, she noticed her cat and dog, quietly sitting on each side of her.
"I got up and went to feed and water them; then the chickens, the birds, the plants, the gardens… I put on music, danced, and went to bed exhausted. The next day I went to work grateful to have my job." The colors weren't back yet, Kathy says, but they have returned day by day.
And with the colors came the inspiration that led to Kathy turning her home into the
Sylvan Run Sanctuary
(
http://sylvanrunsanctuary.com
). After donating fifty acres of her land to create a nature preserve, Kathy has opened the home she shared with Bob as a retreat center, complete with an artist's work space and the seven chakra gardens she's building on land adjacent to the preserve.
"The house was always big for just the two of us, and with Bob gone I couldn't figure out how I was going to take care of it all," she explains. "But now I get to share the beautiful home we created together." In addition to being a retreat for artists and writers – each bedroom includes a writing desk – Kathy plans to host retreats, workshops, and weddings at Sylvan Run.
"Yes, I still go through 'stressors' and yet, as I struggle to learn what 'works for me,' I know I can be okay, and at the same time I work to share things that maybe can make positive differences for others too..."
Thank you for having the courage to create beauty from loss, Kathy, and congratulations on winning a 2013 Soaring Phoenix Award!

(use the back arrow to return to the previous page)