2013 Soaring Phoenix Award Winner Leah Myers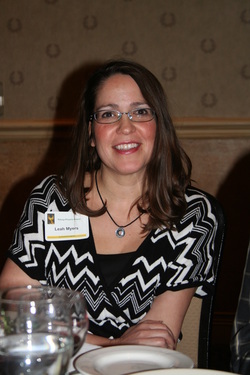 One winter day when she was eight, Leah Myers was running to school along the side of the road with one of her friends when something happened that defined her life for more than twenty years.
Her friend, a boy two years younger than Leah, slipped and fell under the moving wheels of a school bus.
In that moment, Leah says, her outlook completely changed. "I went from an outgoing, relaxed child to someone who was constantly worried," she says. "I became obsessed with safety and things like not sitting with my back to a door. Watching my friend die showed me pretty graphically that life is a very, very fragile thing."
In order to create a sense of security, Leah says she abandoned living in the present moment and instead chose, "...to live in the future and do all the 'right' things I was instructed to do to be safe and secure in the world." A natural artist, Leah channeled her creativity into a career path that would assure her an income – graphic design – married a man who shared her need for security, and the two of them went on to build a house and a bank account designed to keep them safe.
One day, some time after Leah and her then-husband "had it all," Leah realized that safety alone wasn't enough. "I had finally achieved everything I thought was going to make me safe and happy only to discover I only felt empty, sad and even more fragile. I was living an inauthentic life that had been largely built around fear."
Leah wasn't the only one struggling; her husband was also coming to some of the same conclusions, but neither of them understood exactly what was wrong or how to fix it. And so, like so many couples, they started pointing the finger at each other.
"He started saying that he'd be happy if I was just neater around the house – and I was telling him that
I'd
be happy if he'd stop being so controlling and compliment me once in a while," she says. "Neither of us understood that each of us was the source of our own unhappiness."
Eventually, Leah and her husband got a divorce and Leah, "...began the walk home and the return to love."
"Slowly, one by one, I lost all the external forms of security I had built like a fortress around me – my husband, my house, our joint income. Every time I lost something it felt like my skin was being stripped away. It was a very painful process, but I started to realize that the more the external forms of security were stripped away the more I began to find myself. … I also learned that life wasn't out to get me, it was out to
grow
me, so I let go of the need to control and learned to flow with the universe."
"My mission now is to share what I have learned so that everyone can experience the joy of living a truly authentic life that flows in harmony with the rhythm of life. Now that I have returned home from fear back to love my mission is to help walk anyone else back home that wants to go there. I know from my own experience there is no level of fear strong enough to stand in the way."
Flowing with the universe led Leah to found
Self Works
, (
http://www.selfworks.org
) an intentional community that began with Sharing Circles. Sharing Circles are bi-monthly events where participants share storytelling, interactive exercises and discussion time designed to help the group learn from and support each other in their personal growth. From there, Self Works has grown to include workshops and activities ranging from walking meditations to "Improve With Improv" classes.
Leah has also founded a graphic design firm,
Earth, Heart Art & Design
, "... to give a visual 'voice' to new, innovative businesses. In addition, Leah has facilitated several women's retreats and co-created a set of inspirational cards.
"I've done several things," she says, "but I think the most valuable thing I've done is to clear a space within myself through internal work and self-love to fully behold the beauty of another person, even if they don't see it for themselves."
Thank you for being such a clear, loving mirror, Leah, and congratulations on winning a 2013 Soaring Phoenix Award!

(use the back arrow to return to the previous page)