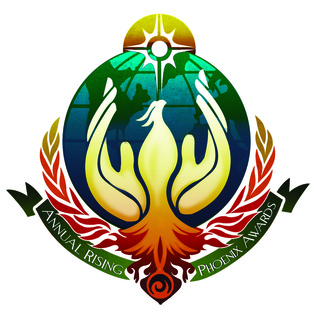 The Rising Phoenix Awards
​
Our mission: To inspire and facilitate positive change at the personal and community levels


All of the Rising Phoenix Awards nominees are appreciated and cherished, and we do our best to share their stories in a way that will inspire others going through similar challenges to rise up and do something great for their communities!
Additionally, each year our evaluation panel reviews and carefully considers the stories of all nominees that choose to share their stories with us, and from them they select the most inspiring stories in which the nominee
most embodies the spirit of the Rising Phoenix.
All nominees and their guests are invited to join us at the annual Rising Phoenix Collective celebration dinner & awards ceremony, and the
top twelve nominees ("finalists")
and a guest receive complementary tickets (a $120 value). They'll also receive a Rising Phoenix Collective T-shirt (a $20 value), a Legacy Planner from Intentional Legacies (a $30 value), and a one month package of Chi Healing and support in the SUN SHEN Chi Clinic - a $100 value. The top twelve are also eligible to receive contributions from the sponsors (
here
),
The top six nominees
- those with the most inspiring stories of all - will be announced at the event and be recognized with the Soaring Phoenix Awards for the year. As such they'll be interviewed for a full length video of their story and invited to share a summary of their stories in person at the event. They'll also receive additional recognition during and after the event, a free copy of their full recorded story, a Rising Phoenix Collective hoodie (a $40 value), and they'll be awarded a charitable donation of at least $250 (depending on sponsor contributions) that they can direct to an organization of their choice.
Who will be the Soaring Phoenixes for 2017? Stay tuned!

(use the back arrow to return to the previous page)