2013 Rising Phoenix Prime: Jodi Lanning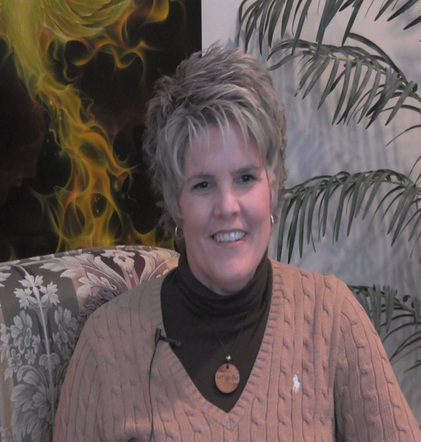 The day we interviewed Jodi for a videotape promoting her story, she showed up in an absolutely fabulous pair of boots. Aside from being stunning, though, Jodi explained that her boots are made for walking – one step at a time.
"When I had my one year anniversary of sobriety, I bought myself a special pair of boots as a congratulations gift but also as a reminder to just keep going," Jodi told us. "Now, my partner buys me a special pair on each anniversary."
Today, Jodi has four pairs of special boots marking four years on a recovery journey that has taken her from homelessness to founding a business that has touched lives throughout the US and beyond.
Becoming her father
Today, Jodi can admit that she is an alcoholic – but that wasn't the case for more than twenty years.
"My biological father was an alcoholic who died at the age of 45, and I prayed all the time as a kid to never let myself grow up to be like him," Jodi says. "He was an abusive drunk and as kids we went through a great deal, and he beat my mother black and blue. We were all afraid he'd kill her."
Jodi, on the other hand, never became abusive when she drank, and this led her to believe that she was still "just" a social drinker. "I had three DUI's by the time I was 23," she says.
After leaving Ohio to escape the consequences of those DUI's, Jodi went on to become a huge success in the field of outdoor advertising, eventually rising to the rank of Divisional President of a major firm. She owned two houses, had a loving partner, and would occasionally admit that she was a "functioning alcoholic – but I didn't believe I had it bad, or else I wouldn't have been able to have all I had."
The truth, though, is that while Jodi had it all for awhile, her drinking eventually caught up with her when her partner ended their relationship and, in 2009, she was fired from her job.
Of course, 2009 was a terrible time to need to find a new job even without a record stained by alcohol abuse, and by November of that year Jodi was staying in the foreclosed home of an Ann Arbor friend while trying to eke out a living as an independent ad sales rep.
"All I had was an air mattress, a kitchen table, and the Internet connection my friend paid for so I could try to make some money and hunt for a job," Jodi says. "I remember waking up each and every morning telling myself I would not drink, but by 3pm I was pretty much half in the bag, and drank until I passed out." Feeling like she had nothing left, Jodi says she quickly got to the point where she hoped she would fall asleep and never wake up.
Fortunately for the people she has inspired, though, Jodi had one important thing left to help her keep going – her three dogs. And one day when she woke up to see their happy, loving faces, everything shifted.
"I knew that I needed to give them and myself the chance to live, which meant facing my alcoholism. I didn't want to die drunk! I didn't want to have to give up my dogs because I was unable to provide for them. I finally told myself that I must try. I had little faith that I would be able to stay sober, but I at least had to try."
Four years later, Jodi has a lot to show for the decision she made that day (and not just lovely boots!). As the founder of
let go. be
, Jodi is planning on spreading her story and new philosophy as a motivational speaker.
Let go. be is certainly a great foundation for that dream! Jodi says that the words came to her about six months into her sobriety, while on a drive up north to visit a friend.
Of course, staying sober – while a victory in itself – wasn't enough by itself to completely turn Jodi's life around. She was still struggling to make a living, only now she didn't have the foreclosed house to fall back on. Instead, she was working her small business and looking for a job in between AA meetings because, as her sponsor told her, "Your sobriety has to come first, or nothing else will come at all."
"So I was driving and I had all of these negative thoughts racing through my head, fear about how I'd pay my rent and being angry at myself for the way I'd messed up my life – when suddenly three little words came to me: 'let go. be.'"
"I realized right then that I can't control people, places, things or situations and the only thing I can control are my actions and attitudes," she said. "And without knowing how or why, I knew I had to spread this message. So that very week I trademarked let go. be and started a basic website."
From the website, Jodi went on to start designing let go. be bracelets and other apparel and encouraging people to share their stories of recovery, forgiveness, and healing. She has also used her expertise in outdoor advertising – you may have seen the let go. be billboards on either I-75 or I-96. The bracelets themselves have spread all over the US, and even traveled to Haiti with a new friend of Jodi's who went there to serve earthquake survivors.
Currently, Jodi is working on redesigning her website with the goal of marketing herself as a motivational speaker and sharing the let go. be philosophy.
"I want to start sharing the philosophy of let go. be in the business world and other venues. This is my goal and dream to take let go. be as far as it can go! You know, I never had a dream in the past, it was all about making money and acquiring things, today it is about giving back. I want to give back in a different way today, I want to inspire. I truly trust the process, and it will happen when it is meant to happen."
Congratulations, Jodi, on winning the 2013 Rising Phoenix Prime Award! We're thrilled to be able to share let go. be (
http://www.letgobe.com
), and we know you'll be inspiring people for years to come.

(use the back arrow to return to the previous page)